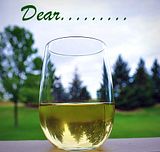 Today my dear friends, Is a very special Dear...... Letter day. In my neverending quest of world domination standing up for all Plus Size Women, I embarked on an email to the store of the beautiful small body women, Victoria's Secret.
Here is the email that I sent them...some things have been changed to protect the innocent me.
--Original Message--
From: dazeedreamer@xxxxxxxxxxx.com
Date: 4/27/2011 3:21:02 PM
Subject:
Comments, Questions or Suggestions
From: Dazee Dreamer
Email: dazeedreamer@xxxxxxxxxxx.com
Order Number:
There is no order number, duh
Comments:
I
wish that you had a Victoria Secrets Plus Size store. I would love to buy your bra's and underwear, and sleepwear. Heck I would love to buy it all. Just because I wear a Size ? Bra doesn't mean I don't like the frilly stuff. I think you are losing a ton of money because you only like the small women. Please think about it. Thanks

Guess what? They replied. I was dazed and shocked. Here is their reply. Read it and Weep


Dear Dazee,
Thank you for your e-mail regarding our selection of sizes. We apologize for any disappointment this may have caused.
At this time there are no plans to extend our size range beyond 16 or XL. However, we assure you that your specific comments have been forwarded to the proper department. We appreciate your comments and take them seriously. In fact, customer suggestions and comments often provide direction for changes in future merchandise and services.
If we can assist you further, please reply to this e-mail or call anytime.
Dazee, we thank you for your interest in Victoria's Secret. We hope you will grant us the opportunity to serve you in the future.
Sincerely,
Indea L.
VictoriasSecret.com Customer Service

And as further rejection they send this little thing at the bottom of the email.
(those rats)
Gorgeous was meant for you! Our New! Gorgeous Push-Up Bra is padded for extreme lift and can be worn 4 different ways. With super soft padding, peek-a-boo cutouts, and a hint of eye-catching sheen, comfort never looked so good! Get Gorgeous with us by clicking on the link below or by 'copying and pasting' into the address line of your browser.
I clicked said browser and these were the cute bra's not meant for me.
I didn't reply back, but now, in the true style of Dazee's Dear..... Letters, here is how I would reply.
Dear Victoria's Secret. Thank you for replying to my email. I have come up with a great name for your new Plus Size store. Are you ready?
I am a very successful blogger with thousands of followers small time blogger, but I think with my willpower and determination, I could send out the battle cry
PLUS SIZE WOMEN OF THE WORLD UNITE.
Love, Dazee
Seize the moment and email Victoria's Secret.
Now, believe me, if their new store name gets out, and I don't get paid for it, I will know that you all are trying to take the credit. When you call or email them, be sure to tell them Dazee sent you. :)