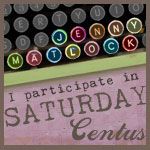 I am so glad that I decided to start doing Jenny Matlocks Saturday Centus again. It gives those creative juices somewhere to go.
This week she gave us a picture that we needed to write about. We can only use up to 100 words and write it in first person. As in, the little guy in this picture.
Voice Of An Angel
I was running around, minding my own business when I saw her.
She was whispering in Santa's ear about her wishes for the season.
It was love at first sight. Why hadn't I seen her before? I scampered
closer. No one was the wiser that I was there.
Then I heard her voice. It was the voice of an angel.
"Oh Santa", she said, "please bring me a special someone that I may spend the rest of my days with".
She looked over her shoulder at me. Our eyes met. This was going to be the best Christmas ever!