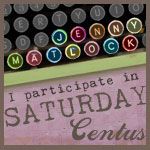 I love Jenny. She makes me really dig deep. Usually she gives us 5 or 6 words, and lets our minds go wild. This week, no such luck. She gave us a picture. Well, you thought you could stump me Jenny, but I took you up on the challenge.
That Dang Joey
"Mom is going to be so mad", Timmy said to his big brother. "Aah, come on , she will never figure it out". They quietly gathered their supplies in their hands, and headed out the back door, as quiet as their 7 and 5 year old feet could take them.
They wanted to make that dang Joey eat his words. They carefully planted the fried egg, cracked shell and spatula on the ground. They waited, knowing that he would ride by anytime on his bike.
"Oh Joey", they called as he came racing by. "We told you it would work".