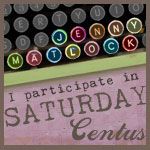 I haven't participated in this for a super long time. Probably because I had gone to the dark side. But now, I'm back, better than ever. I love that Jenny goes Off On A Tangent for us all to join.
She gives us a prompt, we have to use it in our writing and this week we only have 100 more words we can use. The prompt will be in red.
As she paced the hospital floor, the only thought that went through her mind,
was it just last week
that David left for school and never came home?
He was small for being a fourteen year old. So funny and full of life. A little different than the other kids. He had started complaining that people were being mean to him. She told him to hold his head up, and turn the other cheek. She wished she had never told him that.
That afternoon she felt in her soul that something awful had happened. Then the doorbell rang................
Bullying has got to stop.
Too many lives are being affected because of all the hatred.