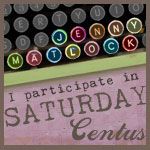 Dear Jenny, I'm sorry I have been not so good with showing up to my Saturday Schooling the last few months. But I am back.
Here is this weeks, Saturday Centus. We have 100 words plus the 2 she has given for the prompt.
Dazee looked in the mirror and said out loud,
Resolution! Schmezolution
. Why does it feel like I'm supposed to make a pact with myself to do something?
She sat down to resolve a few things with herself.
1. I will treat others as I want to be treated.
2. I will spend more time with my husband, children and grandchildren.
3. I will put on a happy face even if I am sad.
4. I will not take crap from anyone. You have been warned.
She smiled. Those were definitely resolutions she could stick to.