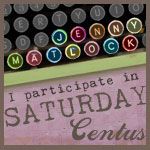 As all fine teachers go, they give us a subject that really makes us think. She thought she could stiffle my creative flow this week, but oh, she was wrong.
The assignment this week is to write an autobiography about ourselves.
But, and it's a huge ole but
WE CAN ONLY USE 6 WORDS.
You read that right.
6 whole words.
Yikes.
My 50's. Oh what a change!