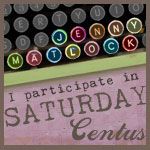 I'm finally getting back to linking up with Jenny Matlocks Saturday Centus. She gives us a prompt, of which I put in

blue,

and tells us how many words we can use. This week we get 100, plus the 8 in the prompt. Also this week, Nonna, one of the ever faithful Centus people supplied the prompt, since Jenny thinks she has to move and stuff.
THE UNKNOWN
Caitlin and Seth had just walked through the old cemetery. "We need to find out about some of these unknown grave markers", Caitlin said. "Whatever you say", Seth grumbled, as they walked to the Caretakers office.
"
We know where all the bodies are buried
", Caitlin told him, "but is there any way we can find out who they might be"?
The Caretaker grunted as he pulled out the old, dusty ledgers.
They both got busy looking through the ledgers when Seth heard Caitlin take in a sharp breath. With a pale face she looked at Seth and said, "you will never guess who I just found".......
What a great week for Nonna to come up with that prompt. I took this photo at an old cemetery just a couple of weeks ago.