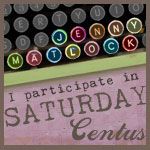 Dear Miss Jenny.
Sorry I have been absent the last few weeks for the Saturday Centus. Please, if you can see it in your heart, forgive me. Phew, thanks.
Here are the rules for this week.
THE PROMPT THIS WEEK IS THEMED ALL AROUND THE NUMBER SIXTEEN!
WORD COUNT - Not to exceed 16 words and please write about whenyou were sixteen.
STYLE OF WRITING - Autobiographical
ADDITIONAL PICTURES IF YOU LIKE!
At sixteen, I believed the world was sweet and loving. Boy, was I ever wrong.