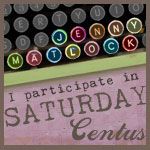 Jenny is on a full blown tangent today. Today she has "allowed" us 25 whole words plus the 5 word prompt. I think she needs to maybe have a nice strawberry daiquiri and relax. As always, the prompt will be in blue.
The Butterfly
Liza watched the cocoon open up, as the beautiful butterfly emerged towards freedom.
I'm not getting any younger

, she wept, hoping to seek freedom from her abuse today as well.
Thanks Jenny. You always push to make us better.