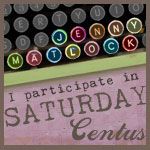 Saturday Centus time. This weeks prompt by Jenny was kind of a hard one for me. But, I was up for the challenge. I just hope I don't lose followers because of it. As I am so boring, the prompt is always in blue.
It Begins With Me.
I'd like to teach the world to sing

, the song keeps playing through my head.

I have lost faith in the world. So much hatred. The constant bickering of people back and forth, not stopping to realize that we all share the space we are in. "No, my way is right, yours is wrong". "This is my land, No it's mine".

It's time to live in harmony. This is my plea. The one-up-manship has got to end. The hatred of others because of their race, religion, or political status needs to begin somewhere, one person at a time.

I vow to have it begin with me.
Jenny says we can't use pictures (unless she gives us weird ones). I didn't use a picture, but instead I'm putting the song itself as part of my post.
Just remember, one person at a time. That's all it takes.