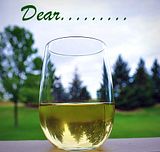 Dear Stupid Ass Pediatrician
How did you graduate? At the bottom of your class most likely. How can you diagnose a 3-1/2 year old with pneumonia, prescribe antibiotics and not schedule a visit to see if it is working. Better yet, how can the 7 year old brother have a well visit, 3-1/2 year old is in the room coughing, that you just saw on Friday, and YOU DIDN'T EVEN LISTEN TO HER CHEST!!!
Thank goodness yesterday was your day off. Thank goodness her mother had the "mothers gut feelings" going yesterday and called. Thank goodness the pediatrician she saw today has more on the ball. Thank goodness my grandchildren are going to have the doctor seen yesterday as their new primary care doctor.
You see, dear worthless doctor. Because you didn't check, Miss A had to have an albuteral treatment, then another chest x-ray. Guess what? Her pneumonia has moved, started going into her other lung, and parts of her lung were starting to collapse. Even the nurse who was checking her in was concerned enough that she went into the room that the doctor was in and told him he had to see Miss A immediately. Oxygen level is borderline. She was almost admitted to the children's hospital. Phone calls were already made to the on-call doctor in case her parents needed to take her in overnight.
Dear Doctor that Saw Miss A Yesterday
Thank you for trying to get to the bottom of the problem. I'm not sure I'm excited about the diagnosis of Asthma, but at least we know what she is up against.
What is up with this Asthma crap? My cute little Miss O was diagnosed with the same thing this past winter. I know that Mr Dazee has it. I guess he wanted to share the joy with 2 of his granddaughters.
Dear Stinking Rotten Never Ending Winter
Would you freaking end already. Constant snow, and now rain since November is not letting the bad air out into the atmosphere. We need some warm temps. High 40's to low 50's does not constitute spring. GO AWAY!! I beg of you.
Rant over.
Dazee