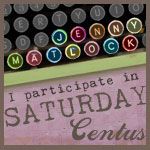 How's your weekend going? Mine is going great, thanks so much for asking.
It's Saturday Centus time, hosted by Jenny Matlock. She has gone with a great prompt this week, of which you will find in blue.
As Cindy walked along the wall, her fingers finally traced the name she was looking for. Edward LeBranc. Her father. She thought back to a time, him pushing her on the swing, laughing nervously, as she flew into his arms.
Then he was called to duty. "But papa, you can't go", she cried. She held on with all her might as he was leaving. "I will be home before you even know it", he replied.
When he did make it home, it was in a pine box. Now he was one of the thousands of solders whose names adorned
The Legacy of Heroes
Memorial Monument.
My thanks go out to all of the men and women that have given their lives for our country.