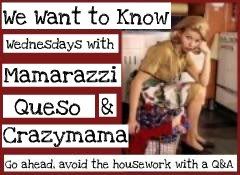 We want to know, is a fun little getting to you know sponsored by the ladies on the above banner. I know, I should totally link up to all their blogs, but I have a book on my EReader that I just must finish.
Here are this Wednesdays (done by me on Thursday) questions.
1.} What
must
you do before you go to bed at night?
I have to watch the news, through the weather, with Mr. Dazee. If I don't, it just doesn't seem right.
2.} What is one thing you
must
snack on at the theater?
Lately I haven't been snacking on anything. I would do popcorn, but they just don't put enough butter on it for my taste. Then, if I eat popcorn, I have to buy a coke, so by the time the movie is over I have to pee so bad that I haven't enjoyed the last of the movie. TMI?
I have to check, double check and triple check that I have my insulin. Oh, and then pee.
I have to read blogs. My day just isn't right if I haven't opened up my reader and read & commented. (unlike Tuesday night when blogger was being a poopyhead and wouldn't let me comment)
I am finding that there is a lot of things that I have to do in order.
Shower
Brush teeth before getting into shower
Wash hair
Put on conditioner
Wash face
Rinse out conditioner
Wash body
Save legs (if they need it, more in the summer)
I could name more, but you are probably all asleep right now as it is. So I will leave it at that.
Now I must go.
There is an in order of what I have to do before I walk out the door.
Ta-Ta-For-Now
5.} Is there something you do that
must
be done in a particular order?
4.} What is one thing you
must
do every day?
3.} Before going on vacation what
must
you do?