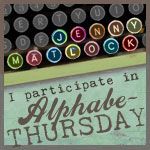 There is always a first time for everything. Today is my first try at another one of Jenny's "make ya think" meme's. Today's episode is brought to you by the letter
Who out there in reader land remembers the Gong Show? Anyone, anyone? Raise your hands.
I remember it. It was goofy and dumb.
No, that isn't me, you weirdo's.
I got thinking. Could I do the Gong Show at work. I would have a big ole Gong in my office. When certain people came in, and I got tired of their chatter, stupidity, dumb questions, and especially certain people that come in and talk to me, a mere woman, like a little kid, with that raised man voice that they use, in that annoying higher octave,
G O N G
you're outta here buster
And if need be, I would have my trusty right hand woman, grab the hook and pull them out of my office.
(for the life of me I can't remember what show they did that on, could have been the Gong show, but try finding a picture on the Internet of that, I triple dog dare you)
By the way, have you seen the new
GULLIVER'S
Travels movie with Jack Black. I was watching that with my
GRANDKIDS
the other night. I have to admit, I was laughing just as much as they were when he put out the fire at the castle by peeing on it. :)