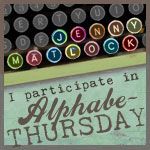 This weeks Alphabe-Thursday is brought to us by Jenny, and the letter
When I was in the baby growing years, many many moons ago, there was a song by Paul Anka. It was called
Having
My Baby.
I made a little video to this song. Please excuse the awful quality of the photo's. My scanner has decided that it has retired, so I had to take pictures of the pictures. Anyphotolater, here you go.
Here's the scary thing. Back in the late 70's and early 80's the songs were love songs. You could understand the words. Oh where have those days gone.
I've taken the liberty to write what this song would sound like today. I will spare you the actual singing :) And imagine in the venue of rap.
*cue scratching records and boom-boom-boom music sounds*
It Ain't My Baby
(by Dazee Dreamer)
You say you're having my baby, my baby
You lyin' B$%$& you crazy, you crazy
My thoughts of you are hazy.
We'll go on Maury, in a hurry
Then your sorry A** will scurry
As he says it ain't my baby
Outta my life you crazy W!@#@
Yeah, so, I will never make it as a rap artist, but you get my drift. I'm glad I was having babies when there was nice songs about it.