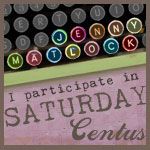 That Jenny, she is always throwing new things at us. She's testing us, I just know it. This week, one of her followers gave her a suggestion on what our prompt should be. Miss Nonna Beach came up with a great one. Oh, and by the way, if you click on her link, the biggest, yummiest plate of spaghetti will hit you in the face. You've been warned.
The other thing Jenny threw at us this week was that we get to use 200 words. Dear Jenny, I found 200 words somewhat harder to come up with. But then, 25 words last week was hard too. Shutting up now, I'll just write. As always, the prompt is in blue.
FAMILY GATHERINGS
Summer was here. DeeDee always got anxious during this season. It wasn't the heat, it was the dreaded family gatherings that everyone expected her to attend.
As she read the invitation to the upcoming event, she couldn't help but get those butterflies she always did. She knew her husband Brian would not go if his life depended on it, that bridge was closed. The wall was built long ago, but through the years, DeeDee had trudged on, only to be asked time and time again, "why isn't Brian here". "As if they don't know", she thought to herself.
She also feared that she would not be able to control her anger towards certain family members. In fact, she knew that she wouldn't. If push came to shove, she would most likely go postal, which would only make matters worse.
Brian walked into the room and saw that she was deep in thought. He could read her expressions so well after all their years together. "I love you", he said. As she melted into his embrace, she whispered in his ear, "I am so lucky to have found my soul mate, I love you too".