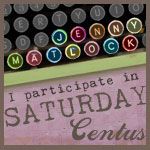 I know, I'm a day late and a dollar short on my Saturday Day Centus. But I know that once Jenny gets over her tangent about my tardiness, it will be ok.
The rules, 100 words plus the prompt. This week that means 103 words. I always put the prompt in blue. This weeks prompt was inspired by Jeff at Tennessee Mudbug. Thanks Jeff. This was a really hard one. (I just realized that I say that every week, my bad)
The Stone Of Life
Have you ever wondered what is written
within the stone
of your life? As I stare into the depths of it, I can see those things that have left small dents, huge slashes and happy, life changing moments.
Today, I see the father of my children, teaching them the ways of life. I see my son-in-law, loving my grandchildren. I see my oldest son, beaming with joy as he plays with his daughter. There is also a spot on that stone, for my younger son that someday will become a dad.
Happy Fathers Day.