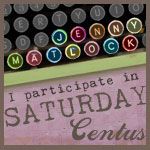 Oh Jenny. Really, you think your test today is going to be hard for us. Think again sister. (wow, did I wake up on the weird side of the bed or what)
Today's test is to use the prompt she gave us but we only have 25 words to do so. Let the games begin.
As they stood at the edge of the canyon, Rose and Freddy thought long and hard.

Was this to be

The End

, or the Beginning?