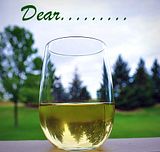 Hi all. Time for another round of Dear ......, where we write those letters whether they be good or bad.
Go over to my side bar there, grab the code and play along
Dear Other Old Outside Sales Dude Where I Work.

Please, for the love of my sanity, just freaking ask for the person you want to talk to. I could give a rats ass why you want to talk to them. Got it. Thanks
Dear Boyfriend.

Thank you for being such a good sport and being the top search that brings people to my blog. PS: I'm hearing from others that you are cheating on me. Tsk, tsk.
Dear Hubby.

Thanks for helping me wrap the christmas presents on Sunday, even tho you weren't in the mood. You rock. Mrs Santa will make it up to you.
Dear Brother-In-Law.

Thank you for turning me on to Cholula Hot Sauce. It is my new favorite.
Dear Hours In The Day.

Would you please change your way of working. I would really like the workday hours to go really fast, and the weekend hours to go really slow. Let me know when you get that changed.
Dear Overcast Sky.

You ruined me seeing a really cool meteor shower last night and probably again tonight. Couldn't you have at least waited until it was over?
Now be brave little buck-a-roo's. Let's hear what's on your minds.