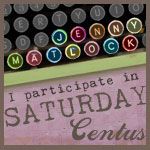 Merry Christmas to you all. I hope that your day is everything you had hoped it would be. I am following along once again with
Jenny Matlocks
Saturday Centus. This is where she gives us a prompt, and we have up to 100 words to write something using it. I have highlighted the prompt in blue.
It was a very peaceful night with little to no traffic on the streets. I was roaming around my apartment, warming my hands with a steaming cup of coffee, when I glanced out the window. I spotted a lone person, navigating his electric wheelchair through the snow.
He stopped at the beautiful old church, drawn by the sounds of the children's choir. As if pulled by some kind of magic,

the white-bearded fat man rolled through the church doors.

As he neared the choir, the children surrounded him and felt a peace they had never felt before. This was going to be a Christmas that they would never forget.


Merry Christmas