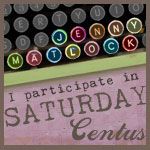 Happy Saturday. Mine, well I woke up to at least 6 inches of snow, it's still falling, and I'm on my way to hunt down mother nature and have a little "chat" with her. Wish me luck.
Saturday Centus time. I love this. Dear Jenny this week, felt it in her heart to give us a "normal" prompt. Thanks Jenny. Because I've wanted to continue the "To Grandfathers House She Goes" saga. If you want to refresh your memory, here is Part One.
As always the prompt will be in blue.
As

the ATM machine began dispensing twenties

, Roger couldn't help but wonder how much longer he would have to pay for his mistake. Thank goodness there was the trust fund he could draw from everyday and no one would be the wiser.

He would never forget the day the first letter arrived. "If you do not pay me $5000.00 a month, I will tell the world what you did to me!"

He had been a fool. Overcome by her beauty, he would learn how vindictive she could be.

"You will soon become a father, and I am not ready for motherhood", she wrote. "what I propose....."


There I go again. Leaving you hanging. It's my plan, to keep you coming back for more. That is, if Jenny keeps giving me prompts that will fit. Haha, now the pressure is on her. Bwaa-haa-haa.