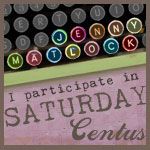 If you would love to try this meme, the rules are you have up to 100 words, not including the prompt, to tell your story. I have to say, when I was shamed into doing this meme I didn't think I would enjoy it. But now I look forward to saturdays, other than it's my weekend, because I feel like I'm being pushed out of my comfort zone. Anywriting, try it, you too might enjoy.
As always, the prompt is in blue letters
Suzanne always loved going to her grandparents house. Today was no exception. She loved to roam around the house, finding trinkets and asking the story behind them.
She wandered into the cellar while they were napping. She spied an old chest hidden in the corner. She opened the lid and looked inside. "What is this", she thought to herself.
She lifted the stack of letters from the ancient chest
and started reading.
They were addressed to grandpa.
"If you do not pay me $5000.00 a month, I will tell the world what you did to me!"
She looked up and saw her grandfather approaching. There was nowhere to hide…....