I love Saturday. Sleeping in, eating breakfast with the hubster, being lazy, aaahh the life.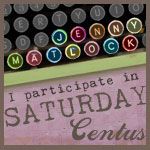 My other reason is Saturday Centus. Hosted by Jenny Matlock, it's one of her tangents. She gives us a prompt every week and we have up to 100 words, not including the prompt to come up with a little ditty. The prompt is in blue.
Going Home
The lone car on the freeway, April had a million things on her mind. It wasn't until she saw the sign

Exit 181, 1/2 mile ahead

, that she started feeling sick to her stomach.

Two years ago, in the middle of the night, she was hustled out of her home into a waiting car. Once inside, a manila envelope was placed in her hands. Where was Matt? What had he done?

She had been living a life protected, away from all she knew. But now, she was taking it all back and going home. Once there she would find Matt and discover why.


Now, if you want to blame anyone for not getting to learn more, it's Jenny's fault. Remember, she only gives us 100 words. Of course, I'm mean too because I'm all about keeping you guessing.

Until next time