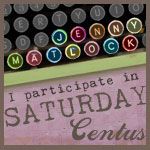 Today is the one year anniversary of Jenny's Saturday Centus. How awesome is that. Happy Anniversary Jenny.
With today's prompt she allowed us to have a picture. Sometimes she's nice like that. Thank goodness she didn't give us a scary looking easter bunny like last week. It's pick your own picture week. We can only use 100 words not including the prompt, and of course, the prompt is in blue.
Happy Anniversary Cooper
Katrina sealed the package and hurried to the post office. Cooper was deployed 5 months ago, and would be coming home in 3 months. It was their wedding anniversary in a week, so she paid extra to get his present there on time.
Although the traditional gift for a first anniversary is paper
, she wanted to give him something he would truly enjoy and never forget.
They knew that the division he was in was very secretive, whereas communication didn't happen often. She wished she could see his face when he opened the box and saw her big surprise.
Happy Anniversary Cooper, from me and your son.
I can only imagine how hard it would be to send off the man I love to a place that I may never see him again.