Time to flip off a few people.
Christy
and
Boobies
, are fearless leaders of this little blog hop. A big PHANKS!!!
A big, huge, flip off to a certain supposed friend that sat and watched his supposed 23 year old friend die. You my dear boy are going to be smacked, run over, backed over, and run over again, big time by the karma bus. (but how do I really feel about it)
And you weatherpeople, that think its ok to smile on Friday telling us how wonderful the weather is going to be Friday and Saturday (high 60's, yay) but then do that I'm gonna slap the crap out of your face grin while telling us that Sunday is going to be only in the 40's and expect 2 to 3 inches of snow.
Thank goodness that is all of my whining for the week.
Now, on to the part of my post that always gets IntenseDebate's panties in a wad. Shoegasm. Notice I didn't put that in the title this week. I'm trying to outsmart them at their own game. Cuz that's how I roll.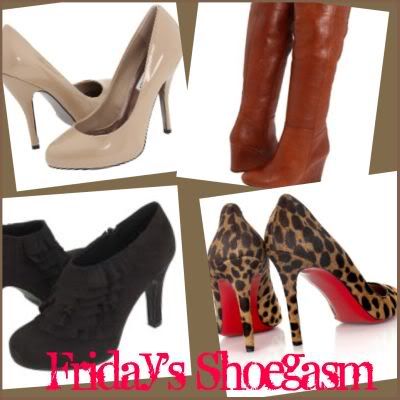 Remember, I'm not a shoe person. I don't know brand names, how much they cost, and I will never, ever be seen attempting walking in anything other than bare feet, pumps, sandals, or flip flops. I know the ER would love me as a constant patient, but well, I just don't want to help them out that way.
On with my shoe picks for the week. Just because I won't wear them, doesn't mean I don't think they are cute.
Cute, Cute, and have I mentioned Cute.
and then there are these
I have a friend, a certain Diva, that would rock these. Oh yeah, I'm a smidge jealous that she would wear these ones.
Another Friday has passed us by. I'm glad that my weekend starts tomorrow. I need some good sleeping in time. Falling asleep whilst driving is not a good idea. :)