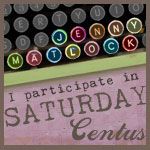 Its Saturday, so besides my usually lazy day of napping and vegging on the web, I join up with Jenny Matlock and her Saturday Centus.
You know the rules, she gives us a prompt (which is in blue) and we are off to the races with our story. This week she has returned to the good ole 100 words, plus the 3 in the prompt. Honestly guys, you need to try this. It is so hard much fun.
DINNER AT LITTLE JOES
As Caden and Robyn were driving to the restaurant to meet his parents, they talked about what they were going to ask them.
"Do you think that they will let us move in", asked Robyn.
"They have a couple of extra rooms now that everyone has moved out, and it would really help us save for our own home", Caden replied.
As they walked into Little Joes, they spotted his parents. After their orders were taken, Robyn blurted out, "Surprise! I'm pregnant!".
But the surprises didn't stop there. Caden's mom looked at them with a glowing face and replied, "I am too".