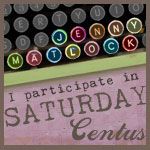 It's Saturday. The day we get ready for Sunday. Ok, help me, bring me back to earth. Reverted to a Sunday school song.
Jenny has been oh so nice once again to us. 53 words TOTAL for this prompt, and we can use a picture. My prompt is always in blue.
From wench you were a little tot
You make me

Laugh Out Loud

a lot
Never a dull moment when you're around
Especially when you make the vacuum sound.
Your impersonations are so cool
Especially Napoleon Dynamite, you just rule.
So now I'm sending everyone to see
Just how funny, you can be.
Not the best Saturday centus ever, but man, my son cracks me up.