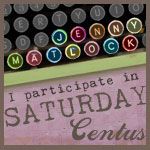 Jenny, at Off On My Tangent, has once again pulled a fast one on us. This week, we were given a four word prompt, but only 50 more words to write our story. I could have used the whole 100 today, Jenny, *said sarcastically, while stamping my feet*, but alas, you are the boss, so be it.
The prompt will be in blue.
SWEET BECKY
Laura loved being a nurse, most of the time. Tonight was no different, except for one thing. Becky Stapleton in room 201. A CODE BLUE was called. Everything went downhill.
Now things were quiet. As she looked in the room, she saw Becky's mom, holding her child's lifeless body singing, "
you are my sunshine
"…………

My heart goes out to all of you who have lost a child, no matter what age.