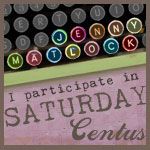 "Your SC can be a story of your choosing - fact, fiction, or poetry but this week you will only have

twenty-five

words (plus the three words for the prompt) for your story."
Isn't she just all kinds of sweet.
And I'm off. The prompt will be the larger words in the story.
(aah, hmmm,

just clearing my throat a little.)
"Life is so unjust", she screamed, as she crumpled up

the lottery ticket

with the winning numbers. Her husband and the Witness Protection Program continued to ruin everything.
You guys should really try your hand at this. It's easy *snicker*