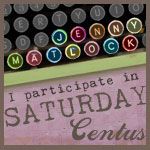 It's time for this weeks Saturday Centus. At first I was all, that darn Jenny, what is she trying to do to me. But the more I thought about it, the more excited I got.
I decided to carry on the story that I started a couple of Saturdays ago. It was titled
Her Haunted Past, that you should probably read here
before going any further.
Oh good, looks like you are back.
This week Jenny wants us to use sensory details,
perception
,
hearing
,
sight
,
touch
,
smell
and
taste.
We have 100 words max, and it has to be written to the picture she has supplied. In other, wish me luck.
Chapter Two
Lily looked up at the house. She drew in a deep breath that took her back in time. As she approached the stairs she heard her stepfather screaming at her as he raped her, and smelled the whiskey he had thrown against the wall in his fit of rage.
She walked into the front room being drawn to the couch, begging her to draw her hand along the top. It had some wonderful memories of times spent with her mother, but it also held the memory of the taste of blood on her lips as that monster hit her.
to be continued............