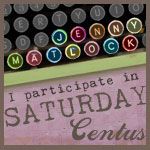 Time once again to get my creative juices flowing and hook up with Jenny for this weeks Saturday Centus.
This week she has gone back to 100 words, plus the 10 in the prompt. You will find the prompt in blue.
Her Haunted Past
As the plane landed, Lily was thinking about what had brought her back to Montgomery. When she had left, she swore that she would never return.
But an unknown force was pulling her back. Just last week she had dialed the number that she would never forget. "We're sorry, the number you have reached is no longer in service". How could this be? Her stepfather had screamed at her as she left that night that she was damaged goods, and someday he would track her down.