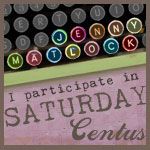 Is it just me, or did this last week go fast. Jenny has given us another fine prompt this week for our writing skills. The rules, write a story with up to 100 words, not including the prompt. The prompt in my story is in blue.
Now, because I have heard that I am mean at leaving people hanging, I have decided to continue on with the saga of Suzanne and her grandfather. If you haven't already, you might want to go read
Chapter 1
and
Chapter 2
Gavin looked around as he rang the doorbell. The door was answered by a uppity looking older woman, who stared down her nose at him.

He had never been accused of being intelligent,

but she would soon learn how he wasn't as stupid as she perceived.

"Ma'am, I have been hired to look into some allegations of blackmail", he said. She tried to look unaffected, but her posture said otherwise.
"How dare you accuse me of such a thing", she gasped, "I have never…", he stopped her before she could go on.

"We shall see", he said as he pushed his way in, "we shall see".
The plot thickens...........